Riverview Gardens High School
Class of 1972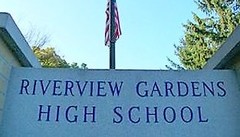 Did you misplace your yearbook?
You can now view or purchase a copy of
Echoes '72 by clicking on this link:
http://www.classmates.com/yearbooks/Riverview-Gardens-High-School/106638?dsource=pub|5856|promotion|1527|10714|2
ANNOUNCEMENTS
SAVE THE DATE!
45TH CLASS OF 72 REUNION PICNIC
SATURDAY, SEPTEMBER 30, 2017
FRONTIER PARK (RIVERFRONT)
ST. CHARLES, MO
More details to follow. The reunion committee is trying to confirm contact information for as many classmates as possible. If you know the whereabouts of any classmates from the Missing Classmates list, please send an email to one of the committee members through this website.
Thanks!
Mickie (Brueggen) Ball, Vicki (Wright) Kaffenberger, Jean (Evans) Lueker, Clete Walters, Jerry Lange, Bill Backus, and Bob Goddard.